Tile and grout are some of the hardest materials in your home to clean. You can spend hours on your hands and knees scrubbing hard, only to have your surface look only marginally better! Before you waste a weekend on tile and grout cleaning in Norman, Goldsby, Hall Park, Cleveland County, Newcastle, Moore, and Oklahoma City, OK, call Rocky Mountain Carpet and Tile Cleaning. We handle your tile and grout with swiftness, leaving behind stunning results. We'll save you the hassle of this stressful chore! Our team can tackle: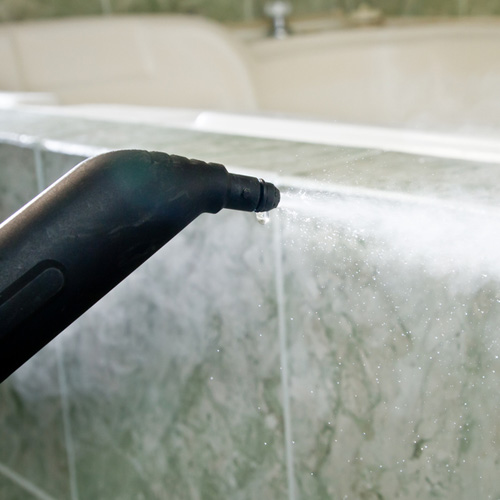 Discolored grouting: Over time, debris and microbes will build up in the crevices of your grouting, leading to discoloration and even a little bit of mold growth. Grout cleaning in Norman, OK fixes this by removing embedded debris from the grouting and sterilizing it to prevent against future discoloration. We have the products and tools to make quick work of your grouting.
Tile stains: Tile is extremely resilient, but it's not impervious to staining. Makeup and shampoo spots can creep up in your bathroom, just like food residue appears in kitchens. Tile cleaning in Norman, OK strips away these stains without harming your tile. We have the tile and grout cleaning products to get the job done and know the best ways to clean your tile without harming it.
Buildups and residue: Dealing with crusted materials on your tile flooring or walls? Calcification and other buildups appear over time, and aren't always fixed with conventional cleaning products. Leave these residues to us. We'll leave you with tile that's sparklingly clean and totally debris-free.
Water spots: Hard water will leave behind all sorts of scale buildups and water spots that leave your tile looking blemished and dirty. Using appropriate tile cleaning products, we wipe these spots away and protect your bathroom tile from the constant barrage of water it faces every day.
At Rocky Mountain Carpet and Tile Cleaning, we make tile and grout cleaning simple, so you don't have to break your back scrubbing for hours at a time.
If your tile is looking a little downtrodden, contact us today at 405-850-0445 to have it thoroughly cleaned by a carpet repair, upholstery cleaning, and tile cleaning professional using the right products.